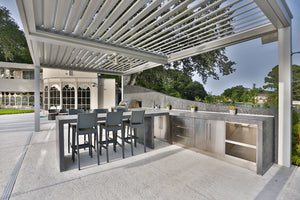 EXPLORE OUR PORTFOLIO
OF LUXURY KITCHENS
RH Meatpacking District Flagship Showroom.
John Michael designed and delivered a high tech, elegant and hyper functional product for the rooftop project. The product is a Matte Black, flat panel server station, equipped with concealed refrigeration, integrated point of sale systems, custom drawer inserts for all of RH's needs and a full bleed powder coat. This coat was applied both inside and out to ensure optimal protection for use 24 hours a day, 365 days a year.
The RH custom outdoor server stations are a testament to the true capabilities of John Michael. We don't just conceive creative solutions, we have the ability to execute them on a commercial scale, for one of the worlds most admired furniture
manufacturers.