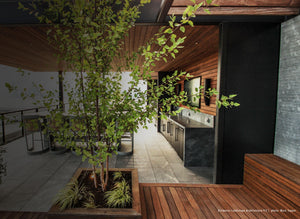 World Class Luxury
Outdoor Kitchens
Hand crafted kitchen designs for a lifetime of memories
Crafting the finest and most innovative outdoor kitchen designs, each unique to its own.
We forged our reputation with our signature outdoor kitchens. A decade later, the John Michael outdoor kitchen remains the leader in industry for our innovation, craftsmanship and quality. Our collaborative, creative process is personal with each client, and we stay true to every detail of function, aesthetic and style.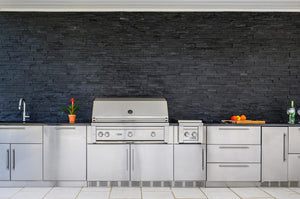 WORLD CLASS STEEL CABINETRY
Forged for strength, crafted for beauty
For nearly a decade, John Michael has been at the forefront of an industry revolution. Using best-in-class materials and elite craftsmanship, we have established ourselves by fabricating the most premium hand crafted cabinetry configurations and outdoor designs for both residential and commercial properties in the world. Each handcrafted cabinetry configuration is forged with 316-L Marine Grade exteriors and domestically sourced stainless steel and are built to withstand the harshest elements. From the salty air of the coast to frigid mountain winters, our kitchens remain breathtaking for a lifetime.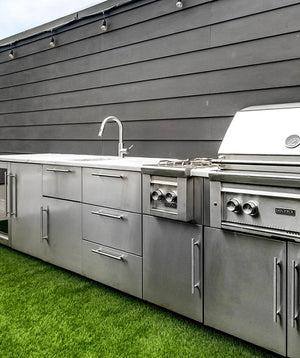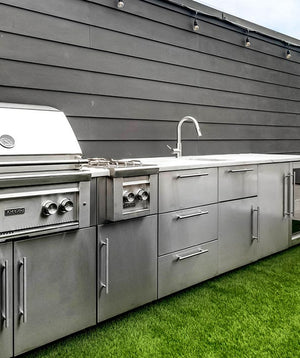 Our version of a slab, a modern sleek minimal take on cabinet design. Minimalism demands purpose.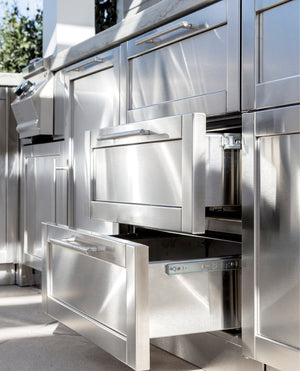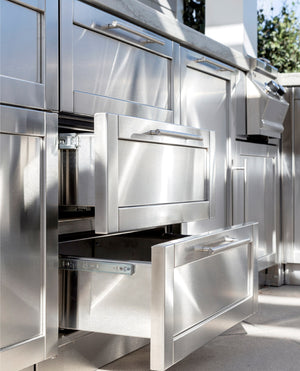 The thickest trim we offer is a bold shaker style. Each face has 6 handcrafted pieces.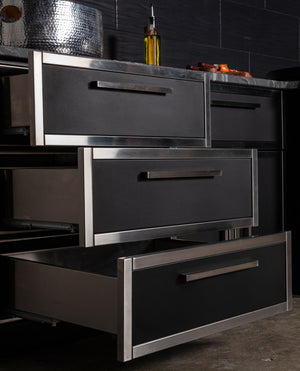 Our take on a modern shaker, this thin frame stands at 1.25 inch and defines clean design language.
Built for the
rugged outdoors
Standard marine grade all stainless steel craftsmanship provides a lifetime of enduring beauty. Weatherproof gaskets protect the cabinet interiors from unwanted elements, and our powder-coating process ensures your color choice never fades. Our cabinetry is further complimented by your choice from the best luxury appliance brands in the world, each panel ready for seamless integration in any weather conditions.
Our Design Process
1
Contact us and
connect with your
own personal designer
2
Begin the collaborative
design process, beginning with
footprint, materials and colorwork
3
Receive drawings and
design proposals
in 2-4 business days
4
Work with your designer
to tune and refine your
custom kitchen build
until it's perfect
5
Your custom kitchen is domestically
sourced and hand-crafted by skilled
artisans at our South Carolina headquarters, each build unique in its own way. 
6
Your finished build is
hand packaged, crated and
delivered directly to the project site. 
Contact Us
* Contact us with any question and one of our customer support personnel will respond promptly.
This site is protected by reCAPTCHA and the Google Privacy Policy and Terms of Service apply.
If you have not received a response from our sales team within 24 hours,
please send your request over to sales@johnmichaelkitchens.com.
---
WE SHIP WORLDWIDE