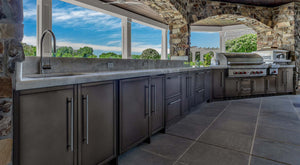 SIGNATURE LINE
OUTDOOR KITCHENS
World class handcrafted outdoor kitchens
John Michael Signature outdoor kitchens have been the most durable, bespoke and customizable on the market since their debut more than a decade ago. With marine-grade 316L stainless steel exteriors, custom weatherproof gasketing and an array of powder coat finishes, the signature outdoor kitchen is built to endure the harshest of outdoor environments. Distinct trim styles, colors and custom appliance integration gives way to endless design possibilities to define any outdoor living space.
World class hand crafted Stainless Steel cabinetry
Our Signature Cabinetry is crafted from the highest quality and heaviest stainless steel on the market today. A John Michael Signature cabinet can consist of dozens of pieces forged into a cohesive whole, and each piece is skillfully crafted by hand at our 166,000 square foot South Carolina manufacturing facility. Every part of the production process is painstaking and meticulous, with up to 80 individual welds required to form a finished cabinet. The final product is a masterpiece of American ingenuity and unmatched quality.
Premium line of world
class luxury cabinetry
& product design
Full range of Alta,
Sedona, & Flat Panel
trim options
Weatherproof, dust
proof & bug proof
Handcrafted Stainless
Steel cabinet interiors
& exteriors
40 Powder coat color
& metallic finish
options
Soft-Close Technology
Black Alta with Stainless Steel trim and 42" EVO grill with VOX vent hood by John Michael
Brushed Stainless Steel Sedona style with Brushed Stainless Steel trim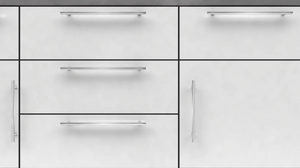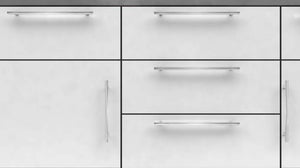 Our version of a slab, a modern sleek take on cabinet design. Minimalism demands purpose.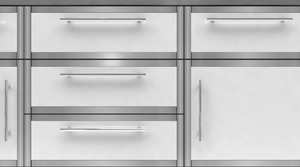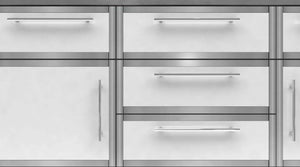 Our take on a modern shaker, this thin frame stands at 1.25 inch frame and defines clean design language.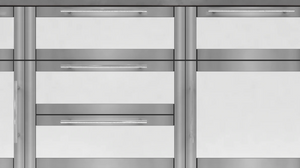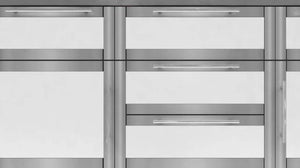 The thickest trim we offer is a bold shaker style. Each heavyweight face has 6 handcrafted pieces.
John Michael Signature Color & Metallic powder coating pallets
WHITE
Pearl
Madison
mist
Granite
Natural
Villa
Oat
Sandstone
Khaki
Driftwood
Ash
Fossil
Eucalyptus
Storm
Moonstone
Cadet
Shadow
Slate
Riverbed
Espresso
Hunter
Patriot
Midnight
Charcoal
Syrah
Flamingo
Black
Platinum
Iron
carbon
champagne
Honey
Brass
Rust
Copper
Sienna
Bronze
Stainless Steel
Clear coat
Design Process
1
Contact us and
connect
with your own
personal designer
2
Begin the collaborative design process, beginning with footprint, materials and colorwork
3
Recieve drawings and
design proposals within
2-4 business days
4
Work with your designer
to tune and refine your
custom kitchen build
until it's perfect
5
Your custom kitchen is domestically sourced and hand-crafted by skilled artisans at our South Carolina headquarters, each build unique in its own way.
6
Your finished build is hand packaged, crated and delivered directly to the project site.
Contact Us
* Contact us with any question and one of our customer support personnel will respond promptly.
This site is protected by reCAPTCHA and the Google Privacy Policy and Terms of Service apply.
If you have not received a response from our sales team within 24 hours,
please send your request over to sales@johnmichaelkitchens.com.
---
WE SHIP WORLDWIDE