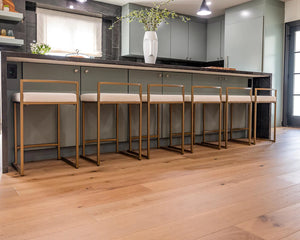 Introducing AlumX by John Michael, indoor kitchens that usher in a new paradigm for cabinet design and construction. AlumX indoor kitchens are a mixed medium construction boasting powder coated aluminum exteriors and a melamine base interior. This material combination opens the price point to a much broader base of customers looking to own a John Michael Kitchen. With powder coated aluminum exteriors, the AlumX line outperforms any traditional cabinetry with zero compromise in style, form and finish.
Modern Flat Panel Cabinetry
The AlumX indoor cabinet by John Michael adopts the same unprecedented Mixed Medium approach as our Signature line. Cabinet bodies are forged from world-class Aluminum and are available in 40 unique powder coated colors and metallics. The interiors feature high-pressure Melamine and can be crafted from four distinct color options: Stone, Salt, Smoke and Fawn.
Handcrafted Aluminum
Cabinet Exteriors
Modern Flat Panel Trim
Design with full bleed
powder coating
Melamine Cabinet
Interiors In Four Color
Options
Cost Effective Price
Point
40 Powder Coat Colors
and Metallic Finish
Options
Soft-Close Technology
AlumX full powder coated Aluminum White and Rust Copper Flat Panel cabinetry
Indoor Cabinet Interiors
AlumX cabinet interiors are hand-crafted using high-pressure Melamine and can be styled in four distinct color options: Stone, Salt, Smoke, and Fawn. All AlumX cabinet drawers and doors are built with our standard soft-close technology and optional lighting features are available.
Melamine interiors available in four color textures
Fading and dimming internal lighting systems
Signature Soft-Close drawer and cabinet mechanics
Stone
Salt
Smoke
Fawn
AlumX custom color-matched Flat Panel cabinetry full powder coated Aluminum
John Michael Signature color and metallic powder coating pallets
White
Pearl
Madison
Mist
Granite
Natural
Villa
oat
Sandstone
Khaki
Driftwood
Ash
Fossil
Eucalyptus
Storm
Moonstone
Cadet
Shadow
Slate
Riverbed
Espresso
Hunter
Patriot
Midnight
Charcoal
Syrah
Flamingo
Black
Platinum
Iron
Carbon
Champagne
Honey
Brass
Rust
Copper
Sienna
Bronze
Contact Us
* Contact us with any question and one of our customer support personnel will respond promptly.
This site is protected by reCAPTCHA and the Google Privacy Policy and Terms of Service apply.
If you have not received a response from our sales team within 24 hours,
please send your request over to sales@johnmichaelkitchens.com.
---
WE SHIP WORLDWIDE