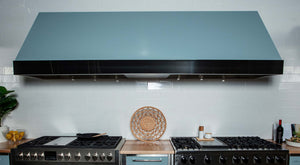 VOX by John Michael is our bespoke new line of custom vent hoods that can be outfitted in the same array of powder coats, textures and metallics as our Signature cabinetry. Clients can choose between single or double blower options, and vent hoods range in size from 30" - 120". LED lighting and even speakers can be integrated, all controllable by Bluetooth.
THE EDGE
Experience the epitome of kitchen sophistication with the VOX vent hood 'Edge'.  Featuring sleek 90-degree lines, Edge seamlessly blends functionality with style. Crafted for versatility, this avant-garde design effortlessly complements modern, traditional, or transitional spaces, offering a timeless aesthetic that rises above trends. Elevate your culinary haven with a ventilation solution that serves as a captivating focal point in any kitchen setting.
THE FORMA
Introducing 'Forma' by John Michael, where elegance meets innovation. Adorned with graceful lines and a distinctive bottom trim, the Forma series of VOX vent hoods elevate kitchen aesthetics. Punctuate your kitchen design by personalizing the tapered main section and trim with a spectrum of colors, allowing you to create stunning and bespoke combinations that leave a lasting impression on your guests.
THE MODA
The VOX 'Moda' vent hood line by John Michael is a marriage of exquisite tapered lines and pristine edges that embody contemporary kitchen design. With its sophisticated lines, Moda seamlessly integrates into a myriad of design applications, offering a versatile and modern aesthetic. Enhance your home design with this sleek and vibrant ventilation solution, where form meets function in perfect harmony.
THE CURVA
VOX by John Michael is proud to unveil the 'Curva' vent hood line, an industry first where impeccable design meets a distinctive trendsetting flair. The graceful lines of the Curva series not only exude modernity but also create a uniquely vibrant atmosphere in your kitchen. John Michael invites you to embrace the aura and intimate elegance of Curva.
THE ICONA
Step into unparalleled sophistication with 'Icona', an evolution inspired by the sleek design cues of Moda with an added touch of texture and depth. The smooth tapered lines infuse a distinctly modern aesthetic, while the bottom trim panel introduces versatility and style, making Icona equally at home in traditional and transitional spaces. Heighten the visual impact further by utilizing color contrast, transforming your kitchen into a masterpiece where modernity meets timeless elegance.
VOX Moda 112" Brass powder coated twin blower Vent Hood with Bluetooth-powered LED lighting, and speakers
Five curated styles available
Single or double
blower options
Optional LED
lighting
Handcrafted Aluminum
or Stainless steel
construction
40 Powder coat color
& metallic finish
options
Optional
Bluetooth speaker
installation
Vox vent hoods are available in all of the John Michael Signature powder coat colors & metallic finishes
WHITE
Pearl
Madison
mist
Granite
Natural
Villa
Oat
Sandstone
Khaki
Driftwood
Ash
Fossil
Eucalyptus
Storm
Moonstone
Cadet
Shadow
Slate
Riverbed
Espresso
Hunter
Patriot
Midnight
Charcoal
Syrah
Flamingo
Black
Platinum
Iron
carbon
champagne
Honey
Brass
Rust
Copper
Sienna
Bronze
Stainless Steel
Clear coat
VOX Moda 48" black powder coated single blower vent hood
Contact Us
* Contact us with any question and one of our customer support personnel will respond promptly.
This site is protected by reCAPTCHA and the Google Privacy Policy and Terms of Service apply.
If you have not received a response from our sales team within 24 hours,
please send your request over to sales@johnmichaelkitchens.com.
---
WE SHIP WORLDWIDE