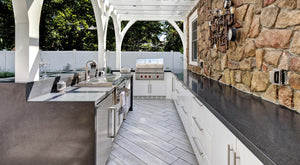 AlumX Outdoor Kitchens are a clean and minimalistic design, forged from Aluminum and coated with an ultra-durable powder coated finish, both inside and out. The Aluminum construction is a durable substrate that is made to withstand even the harshest of environmental conditions. Finish your AlumX outdoor kitchen in any of the 40+ John Michael signature curated colors to ensure a perfect match for your design application.
Powder Coated Aluminum
Flat Panel Cabinetry
Best-in-class, handcrafted Aluminum construction sleeved in a comprehensive full powder coat application makes our AlumX outdoor kitchens built for the harshest environments. Custom weatherproof gaskets seal the interiors from exposure to unwanted elements, while the flat panel design makes a bold, modern statement in your outdoor living space.
Handcrafted Aluminum
cabinet interiors &
exteriors
Modern flat panel trim
design
Weatherproof
dust proof
& bug proof
Cost effective
price point
40 Powder coat
colors & metallic
finish options
Soft-Close
drawer & cabinet
mechanics
Cadet powder coated Flat Panel with Teak counter tops and John Michael VOX vent hoods
Outdoor Cabinetry Features & Technology
The AlumX line of outdoor cabinetry utilizes much of the same innovative technology as our Signature line, at a price point accessible to a larger audience. Custom weatherproof gasketing will ensure the cabinet interiors remain pristine, while the powder coat of your choice fortifies the cabinetry to withstand the harshest of outdoor conditions.
AlumX Outdoor Restoration Hardware Flagship Store NYC, NY
Design Process
1
Contact us and
connect
with your own
personal designer
2
Begin the collaborative design process, beginning with footprint, materials and colorwork
3
Recieve drawings and
design proposals within
2-4 business days
4
Work with your designer
to tune and refine your
custom kitchen build
until it's perfect
5
Your custom kitchen is domestically sourced and hand-crafted by skilled artisans at our South Carolina headquarters, each build unique in its own way.
6
Your finished build is hand packaged, crated and delivered directly to the project site.
Contact Us
* Contact us with any question and one of our customer support personnel will respond promptly.
This site is protected by reCAPTCHA and the Google Privacy Policy and Terms of Service apply.
If you have not received a response from our sales team within 24 hours,
please send your request over to sales@johnmichaelkitchens.com.
---
WE SHIP WORLDWIDE